A hidden space, maximised for living
---
This large family home in Vaucluse, in Sydney's eastern suburbs, had a large and spacious rear garden that was impractical and dysfunctional, with an oversized in-ground pool right in the centre that was never used or compliant. The family wanted a garden with maximised space for outdoor entertaining and activities while still incorporating a pool, but one that was practical and in proportion with the property and did not dominate the space.
A complete redesign was in order.
The challenge was to address existing levels and design it in such a way that it minimised the need for cut and fill while providing a seamless connection from the new deck to the pool and garden.
Existing plants were retained where possible to retain privacy and give the garden instant structure and scale. These included the beautiful large Melaleuca, Murraya and Camellia hedges.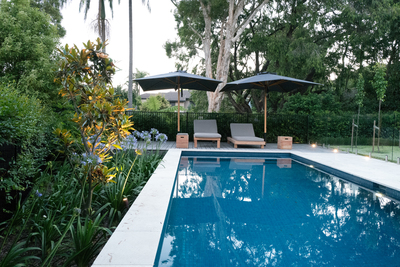 The selection of materials had to complement the architecture and style of the house and interior, including the site/area. Materials selected incorporated natural elements and texture through the use of sandstone ballast, hardwood decking and travertine tiles.
By locating the pool near the rear boundary where the land sloped away, it minimised the need for excavation, maximised the lawn area and created a focal point from the house.
This also allowed maximum safety as the pool can be viewed clearly from the house.
The design (Raoul Van de Laak/Lilly Van Epen) and construction (GOODMANORS) team implemented a two-stage process to ensure the job could run as efficiently and seamlessly as possible. The pool was completed first via a complying development while the outdoor decked entertaining area was being put through a separate development application.
This project was featured in the 2016 Hidden Design Festival, which opens up private gardens and outdoor spaces to the public. Many of these gardens had never before been opened to the public and are unlikely to be open again. Hidden Design Festival is organised and managed by the Australian Institute of Landscape Designers and Managers (AILDM). 
Images courtesy of GOODMANORS. 
---