Simple solution ensures accurate water sample collection
---
In the depths of the Melbourne winter, no-one wants to collect water samples from their pool or spa for testing — let alone collect the water correctly, elbow deep in freezing cold water.
Tom Gorgievski of Quickrepairs Pool Solutions was finding that his customers' water samples were throwing all kinds of inconsistent results due to poor sample collection techniques. He found that most owners were scooping water from the surface of the pool, giving inaccurate results when the water was tested — which of course affected the advice the store could offer its clients on their water chemistry needs.
Gorgievski conducted a study of more than 500 water tests that spanned several months, and found that water samples collected from the surface of the pool had significant differences in water quality compared to samples collected from a depth of 20 cm.
These differences included much higher readings of TDS (total dissolved solids), higher chlorine levels and inconsistent pH and alkalinity levels. Samples taken from the same pool from both the surface and 20 cm deep would yield quite different results — which would result in the pool shop recommending two quite different courses of action to balance the water. "Ensuring pool and spa owners have an adequate water sample is the first step in addressing water concerns and issues," Gorgievski said.
Seeking a better way to help his clients maintain their pools, Gorgievski invented an ingeniously simple device to ensure water samples are collected correctly: a sample bottle with a 'slap band' (remember those from primary school?) attached to the side. By attaching the slap band, Gorgievski could ensure that his clients always collected their samples from the correct depth, without even having to get their hands wet — an appealing prospect during the bitter Melbourne winter.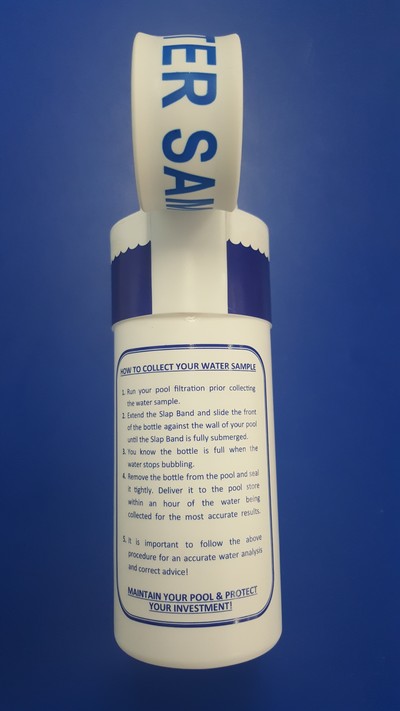 The Slapband Bottle includes instructions on the back. The slap band rolls up for storage.
The Slapband Bottle has been a hit with Quickrepairs' customers, Gorgievski says. An in-store digital display and sample bottle attracts clients' attention when they enter the shop, giving the Quickrepairs team the opportunity to demonstrate how to use the bottle and the importance of correct water collection. It also gives them an opening to explain that the advice they offer on water chemistry is only as good as the water sample collection.
The response to this is generally positive, Gorgievski says. "Based on this explanation, almost every customer buys a Slapband Bottle and they go back home to collect a water sample properly, which sometimes makes me laugh."
Using the Slapband Bottle, consumers can take a water sample from the correct depth without getting their hands wet.
Customer feedback has been good, with pool owners happy that they no longer need to stick their arm into the pool to take a water sample. "The results from the water samples are now consistent, where previously they were inconsistent. Some of our clients had a constant struggle to maintain the water quality — not to mention the cost involved," said Gorgievski.
"So with a simple Slapband Bottle we solved many people's headaches and minimised the cost of pool maintenance."
For more information on the Slapband Bottle, visit www.slapbandbottle.com.au.
Top image credit: ©stock.adobe.com/au/sirirak. All other images courtesy of Slapband Bottle.
Related Products
Maytronics has introduced the pH Drive automated dosing option for its Ozone Swim system,...
Clark Rubber is adding pool and spa shops and service vans to its franchising model.
Daisy Pool Covers' slimline below-ground pool cover boxes are designed to extend cover...
---