The future of energy and pools: is the status quo about to shift?
---
The world is changing rapidly when it comes to trends in energy consumption and the Australian swimming pool industry may well be in for a nasty surprise unless it begins to takes this issue seriously.
Politicians are arguing about what our national renewable energy target should be. Traditional energy generators are slowly being squeezed out of the market. Disruptive blackouts have occurred and domestic fuel prices are surging. There is little evidence of what is going to fill the looming gap over the next decade and virtually all experts are telling us to expect sharp rises in energy costs.
When you build a house, the number of energy rating regulation hoops you must now jump through is quite daunting, yet when a pool is built there are little or no regulatory requirements for energy ratings.
For years the pool industry has been flying under the energy regulators' radar while they target more obvious household products that consume larger amounts of energy. But that may well be about to change.
So how much energy does a pool really use?
The average Australian household — without a pool — uses 19.8 kW of energy or $4.50 per day. That is more than 6500 kW or $1624.00 per year. The average pool — without heating or in-floor cleaning — uses around 1750 kW or $438 per year. Thanks to recent pool equipment advancements, filtration, sanitisation and lighting, an unheated pool now uses an acceptable amount of power.
However, heating the pool water remains an energy-consuming monster. Few realise that water takes 3542 times more energy to heat than air. That's why around 85% of an average heated pool's energy consumption will be used just to keep the pool water warm through the swim season.
Regardless of what type of equipment is installed (solar heating, heat pump, gas heater, pool cover, in-floor cleaning etc), a heated pool demands up to 8000 kW of energy per annum to keep it warm. That's more than double the energy consumption of the average household. This is a problem for the pool industry. Energy consumption and the heat losses on that scale, just from heating the average backyard pool, are nothing short of wasteful when we compare them to other household items.
(left) 6500 kW — the total energy required to run an average household | (right) The total energy required to run an average unheated pool — 1750 kW p.a. | The total energy required to run an average heated pool  — up to 8000 kW p.a.
There is also the cost of generating so much energy and that depends on how it is generated. The three main options are solar, heat pump or gas, and with some, the costs can exceed $2000 per annum.*
Pool heating is now the largest and most important conservation issue for pools
Australia leads the world in per capita pool ownership, so we should be showing the rest of the world how to build energy-efficient pools. We should be developing and installing the most energy-efficient pool equipment and also using the most energy-efficient construction techniques and materials.
Mandatory changes designed to reduce the energy footprint of new buildings have resulted in the introduction of insulated slabs, insulated composite concrete walls, double glazing, better ceiling and wall insulation and generally more energy-efficient initiatives. Comparatively, most of the changes in swimming pool construction over the last 20 years have been aesthetic features such as vanishing edges, spillways and different interior finishes. Little has been done to insulate exposed walls or to increase the heat retention qualities of the commonly used pool construction materials even though great advances have been made using these same innovative materials in the housing construction industry.
With pool equipment, great advances have been made with smarter controls, pump efficiency, pool covers, filtration and lighting, but in general, the pool industry does not want to talk openly about pool water heating costs with their customers and this is largely due to a lack of education. If the industry continues to avoid the difficult topic of running costs then how are they going to cope when regulators become serious about mandating change?
As part of the solar industry since its inception, we at Sunbather obviously believe that using solar to heat our pools is the best way to keep the regulators at bay. Thankfully, the statistics and the science back up our claims and the regulators also agree. Solar is without doubt the cheapest and by far the most energy-efficient way to heat a pool, but even with solar there are serious misconceptions.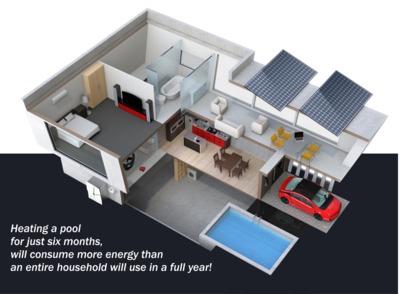 Is the future of pool heating battery storage?
If Elon Musk, the founder of Tesla, gets his way then many of our homes will be off the grid using photovoltaic panels to collect energy from the sun and his battery storage technology to store it for later use. If the uptake of battery storage in Australia is anything like the last 10 years of PV panel installations, then it gives us a picture of how we will produce our energy in the future. Musk's $5 billion battery factory is under construction and is likely to be very busy.
But some mistakenly believe that their rooftop PV solar installation will offset any pool heating bills that an electric pool heater [commonly known as a heat pump] would generate and, while theoretically that could be true, in practice it is not a likely scenario.
The theory is that the energy from PV panels, installed at significant expense, will provide enough electricity to run the electric pool heater, thereby eliminating the high cost of running that electric heater. But as has already been shown, the amount of energy required to heat a pool is equivalent to the amount of energy required to heat an entire home.
At this point in time, PV panels struggle to meet that level every day but, if they could, would the householder want to use that investment in PV just to heat their pool while the household continues to run on energy purchased form the grid? It would mean buying an electric pool heater, plus an array of PV panels just to heat the pool and, based on PV averages, the power generated is still likely to fall short of the heat pump requirements. That's a very, very expensive and very complex pool heating system, which can get customers offside.
As smart meters get smarter and iPhones keep pool owners up to date with exactly how much energy is being used in and around the house, pool owners will be in full control of when and where they use their power. They will make better informed decisions about how and when to heat their pools.
Global game changers such as Google, Apple and Tesla are all investing in this field, as they recognise that once energy is captured and stored in a battery in your home, customers will be more frugal with their consumption and will be out to reduce wastage wherever possible by making more informed decisions on where they use their stored electricity. In the foreseeable future, they will need every watt of it to run their household and even power their electric car. They won't want to waste all of it on pool heating when there are alternatives that are so much more practical and logical, and so much cheaper.
So, with both economics and science behind heating pools by battery storage being so unfavourable, the sun's free energy looks certain to remain the main energy source for swimming pool heating into the future. The temperature requirements fall into precisely the high heat efficiency transfer bracket that makes thermal solar pool heating collectors perfect for heating pools. There is no need to convert the sun's thermal energy into electricity and then back again into thermal energy at great expense so it can heat a pool when that thermal energy can be transferred inexpensively from the sun directly into the pool. And there's no need for expensive battery storage when the large body of water in the pool is the perfect 'battery' for storing the sun's thermal energy. That amount of water, combined with a simple thermal pool blanket, will retain the sun's thermal energy long after the sun has set each day.
You don't become better by being the same
The pool industry has the opportunity to keep ahead of impending change by being well informed about actual pool heating costs and recommending design and construction methods that are the most energy efficient. If the industry doesn't recognise the mood for change then it may be forced to self-regulate or be regulated.
If we can make the right energy decisions and sell customers more energy-efficient solutions now, the energy regulators will be more likely to look elsewhere when legislating to reduce the nation's carbon footprint. But if we remain locked into the status quo — particularly with the heating of pools — by recommending inefficient products that consume unnecessarily large amounts of energy for little public benefit and by using inefficient methods of pool construction, then they will have plenty to investigate and regulate.
Personally, I would like to see us as an industry be in control of the rules and regulations imposed on us by leading from the front. Being led by regulators may lock the industry into having to concentrate on compliance rather than leading with world-class innovation.
*These figures are based on a 32 m2 Sydney pool, kept at 28°C for 6 months.
Image credit: Sunbather Pool Heating.
Editor's note: As with all content published, readers are advised to make their own enquiries and ensure that they adhere to the relevant regulations in their region. The opinions expressed in this article are the opinions of the author(s) and not necessarily those of Pool+Spa.
Related Articles
Installing a heating system and extending the swimming season helps make the most of a pool...
The Decision Regulation Impact Statement (RIS) on pool pumps was released 19 December,...
We've been through the same thing here, now the pool fencing saga is playing out in New Zealand.
---