Cogen system provides 'free' pool heating
---
Tasmania's Devonport Aquatic and Leisure Centre will effectively be heated for free following the installation of an on-site cogeneration system.
Cogeneration supplier Simons Green Energy supplied, installed and commissioned a 70 kW combined heat and power (CHP) Ener-G system at the centre. In operation 24 hours a day, seven days a week, the system will provide base load electricity as well as hot water for pool heating, space heating and domestic use. Waste heat from the cogeneration engine will be recaptured to raise the temperature of the 50 metre outdoor pool and toddler play area to a steady 28 to 30°C year round.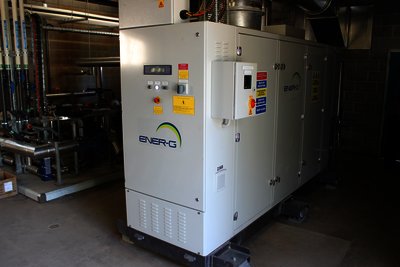 The Ener-G combined heat and power system.
"One of Council's key strategies is to live lightly on our environment and the cogeneration system certainly fits into making a major contribution to Council's goal in its strategic plan," said Ian McCallum, General Manager at Devonport City Council.
The system is estimated to save thousands of dollars in energy costs, effectively providing free heating for the aquatic centre and significantly reducing its carbon emissions.
The system includes a real-time monitoring system that enables Simons Green Energy's technical services team to remotely monitor the unit 24 hours a day and respond to unscheduled maintenance needs. Simons Green Energy says this capability maximises uptime and efficiency, delivering better financial and environmental returns.
Interior of the combined heat and power (CHP) system.
Related Products
SwimWall Systems from S.R. Smith provide flexibility in commercial swimming pool applications.
The Life Floor foam rubber flooring system is specifically designed and engineered to perform in...
Flowcrete Australia has launched Flowsports Aquatic, a range of high-performance resin flooring...
---